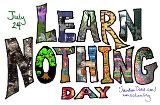 July 24th is Learn Nothing Day. But really, is it possible to make it through a day without learning anything? Nothing at all?
I hope not.
Which, of course, is the point of Learn Nothing Day.
It's an opportunity to recognize how much learning we do naturally every single day, just in the process of being curious, interested human beings. Notice I said "we" not "our kids".
It's important to be open and curious, ask questions, seek information. We may live Life at Home, but we aren't stagnant and cut-off - unless of course you want to be. And then I bet you have to work at it.
Open your mind and eyes and see the learning opportunities that surround you – in books, magazines, television, on the computer, in the games you play, in your kitchen, in your garden, from the conversations you have with your kids, your friends, and your spouse.
There is so much to take in, so much to learn from. I hope, and expect, that Learning Nothing Day will be an utter and complete failure for you. For it's meant to be.
But give it a try… and see what happens.