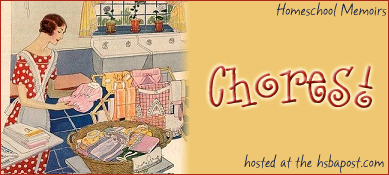 This week over at The Homeschool Post, the theme is Chores. More specifically:
How chores are done in your home. How you order your day with school and getting housework done. How do you decide which chores should be done by which child, of which age?
And it actually fits in with a question I promised a friend I would answer this week. She asked me "How do you do it all".  My answer simply was "I don't." But Chores play a really BIG part in how things get done at our house. We all pitch in and get the work done…together.
Each morning the children find a list of Chores/Schoolwork on the white board, and on most days, schedule for the day is posted on the refigerator. The chores on the board are the "before schoolwork" chores. And usually they are pretty consistent.  Something like:
J – unload dishwasher, make bed, take a shower

K – load dishwasher, 15 minutes room pickup, make breakfast for everyone

Z – make bed
Then they have their list of schoolwork subjects for the day (except Kate who is reminded to look at her schedule – more on that another day).
Then, each evening, around 6pm, we do our chore time. This is the time where we ALL (including me) do chores to prepare the house for Daddy's homecoming. I write the chore assignments on the white board and they  mark them off as they are done and inspected. The list varies depending on what needs to be done – usually the room of the day is the one that needs the most rescuing…er…help.  So the chore list will look something like this:
J & K – Clean litter boxes (all three)

K – dining room clean up

E – pick up art table and dining room table (or help pick up game room/living room)

J – Game room (or living room) – pick up and vacuum

Z – unload dishwasher

Z & E – set dinner table

Mom – load dishwasher, sweep kitchen floor, downstairs bathroom
The other important thing is that each child is in charge of dinner one day a week. This was a crazy thing that happened. I assigned Kate to cook one day a week and they all wanted their own day. So I help E and Z with their days. I coach J on his day. And Kate does her day all on her own (at her request).
On major cleaning days (like before guests are coming), chores are assigned, by listing what needs to be done in the order of priority. And then I start assigning based on who wants what and who has the best attitude, and of course by ability. I'm not going to ask a 4 year old to do an 11 year old's job. But in reality my 11 year old can do pretty much any chore I can do, with little help. And Josh, our 9 year old is not far behind her. What a blessing they all are.